Add a Nobeltec InSight radar to your Nobeltec navigation system for a powerful PC-radar solution. The InSight Radar 2 (IR2) connects directly to your computer via Ethernet so that installation is made as simple as possible. The Nobeltec InSight line of radars range from smaller 2kW models up to 25kW. Recreational users will love the easy installation and software integration features. There is no need for a dedicated MFD for these radars, which helps reduce costs – your computer will act as the radar display.
These radars are designed for small sail boats all the way up to mega yachts. Browse the full range here, to find the perfect model for your boat.
Once the radar is integrated with your TimeZero software, the software will display the radar image, give you full control of the radar and even overlay the radar image on your charts. Numerous display setting options are available, including a split screen function which displays radar on one half of the computer screen, side by side the navigation charts.
Nobeltec InSight radars surpass traditional radar systems thanks to their complete integration with Nobeltec TimeZero software. This software makes the radar user-friendly, and easy to update. For a PC-radar solution that's cost-effective and fully supported by our technical support department, choose a Nobeltec InSight radar system.
How it works
Digital Radars are unique because they send radar output directly to a personal computer without the need for additional displays. Bringing the PC and radar together is normally no small task. With IR2 Radar Solutions, Nobeltec makes it easy for you.
The radar image is received by the radar transceiver and converted into a digital picture which is sent to the computer and displayed on Nobeltec Navigation Software. Heading and GPS information are sent to the computer using standard NMEA0183 or NMEA2000 interface.
Digital radar overview: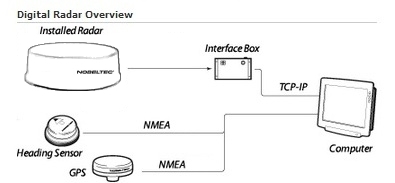 What's in The Box
Nobeltec provides you with everything you need to get your Nobeltec radar up and running.
Nobeltec Radar includes :
Radar Transceiver
Standard 10 meter radar cable
Ethernet crossover cable
Installer's Guide
Operations manual
Interface box
Product Documentation
IR2 Radar Solutions Brochure
Nobeltec provides a full-color brochure outlining many of the features and technical specifications listed on this page. Click below to download, view, and print.
Click here to download brochure. - 1.48 MB
IR2 Quick Start Guide
Nobeltec's quick reference guide for setting up your IR2 radar.
Installation Guide
Operations Manual
This manual instructs you how to use the radar features in the InSight Radar version of the Nobeltec Admiral and VNS. A copy of this manual should have come with your radar if you purchased Admiral or VNS at the same time, but a duplicate copy can be obtained by clicking the link below.
Radar Features
Nobeltec's radar solutions allow for many of your radar tuning feartures to be controlled directly from your computer.
Radar Features
T = TimeZero
V = Visual Navigation Suite
A = Admiral
| Features | T | V | A |
| --- | --- | --- | --- |
| Full Screen Radar | X | X | X |
| Split Screen Mode | X | X | X |
| Radar Overlay (requires Heading Sensor) | X | X | X |
| Radar Orientation HU/NU/CU (requires Heading Sensor for NU and CU) | X | X | X |
| Customizable Radar Toolbar | X | X | X |
| Off-Centering Radar Mode | X | X | X |
| Auto-Gain | X | X | X |
| Auto-Sea Clutter | X | X | X |
| Echo Stretch | X | X | X |
| Echo Averaging (requires Heading Sensor) | X | N/A | N/A |
| Echo Trail (requires Heading Sensor) | X | N/A | N/A |
| Pulse Control | X | X | X |
| Interference rejection | X | X | X |
| Double Speed Mode (requires 24V) | N/A | N/A | N/A |
| Target Tracking (requires Heading Sensor) | X | N/A | X |
| EBL/VRM | X | X | X |
| Guard Zone | X | X | X |
Nobeltec IR2-6.4 is only compatible with VNS 11, Admiral 11, TimeZero Trident 1.0 or higher versions. The IR2-6.4 is not compatible with version 10.7 or lower versions of Nobeltec software.
Please Note: Nobeltec radar and software sold separately.
Transceiver
4.5' open array
Rotation
24/48 RPM
Peak Power Output
6000 Watts
Transmitting Frequency
9410+/- 30MHz
Beam Width
1.8° (Wide), 22° (Vertical)
Range Scales NM
1/8 - 64 (230m - 119km)
Resolution
Up to 1024 x 1024 pixels, 8 colors
Presentation Mode
Course Up, North Up, Leg Up or Heads Up
Bearing Accuracy
Better than +/- 1%
Function
FTC, Interference Rejection, Target
Expansion, Auto Calibrate, EBL, VRM, Zoom,
Overlya, Gain, STC
Guard Zone
Omni directional - fully user defined
Min Detectable Range
Better than 25 Meters at 1/8 NM Range
Range Discrimination
Better than 25 Meters
Range Accuracy
Better than 8 Meters or .9% of max range
of scale in use
Pulse Length
.08 µSec/2000Hz (S range), .3µs/1500Hz (M Range 1),
.6 µSec/1000Hz (M Range 2), 1.0µs/500Hz (L Range),
1.2µs/400 (L Range 2)
IF Center Frequency
60 MHz
IF Bandwidth
20 MHz (wide) short and 3 MHz (narrow)
Power Consumption
100 Watts or less
Voltage Supply
10.8 to 41.6 VDC
PC Interface
10/100 ethernet connection - Cat 5 or better
Cable Length Provided
10m Meters standard
(15 and 20 Meters optional)
Operating Temperature
-13° to 131° F(-25°C to 55°C)
Wind Force
100 knots relative
Water Resistance
IPX6 (IEC60529)
Output
Radar image video by proprietary protocol
Input
Radar control by proprietary protocol
Weight
23 kg (51 lbs.)