Fish with the Power of CHIRP
7-inch color display with keypad control
Available with or without transducer, with high wide CHIRP, 250 W and CHIRP DownVü™/SideVü™, 455/800, 500 W
Panoptix™ all-seeing sonar support (transducer not included)
Includes BlueChart® g2 charts for the coastal U.S.
Preloaded Quickdraw Contours custom HD map creation software
It's time you started fishing with the power of CHIRP sonar. The easy-to-install, easy-to-use 7-inch echoMAP CHIRP 74sv includes transducer for high wide CHIRP sonar and Garmin CHIRP SideVü and Garmin CHIRP DownVü, the clearest scanning sonars on the water. It supports Panoptix sonar and includes preloaded Quickdraw Contours software to instantly create your own HD maps with 1-foot contours as you fish. Internal 5 Hz GPS updates position and heading 5 times per second. It provides NMEA 2000® support for engine data, sensors, autopilots and more. Cords plug directly into the mount, allowing you to quickly install and remove your device from power and mount. Transom and trolling motor mounts included.
The Garmin CHIRP Difference
The built-in sonar capabilities of echoMAP 74sv include CHIRP sonar, the most sophisticated sonar technology available for the fishing and boating public. CHIRP sonar provides amazingly clear target separation and definition because it puts even more energy onto the target than traditional sonar. It also includes sonar-recording capability that coordinates the timing of the sonar return with your boat's position and saves digital information for playback on a computer using HomePort™ planning software. Use the user data sharing cable to share waypoints and routes between multiple devices.
Clearest Scanning Sonar on the Water
Garmin CHIRP DownVü and CHIRP SideVü scanning sonars give you nearly photographic images of what's below and to the sides of your boat. You clearly see structure, submerged objects and fish. Also supports Minn Kota® and MotorGuide® trolling motors with integrated transducers.
Preloaded BlueChart g2 Maps
echoMAP 74sv is preloaded with BlueChart g2 maps covering the coastal U.S. (East Coast, West Coast, Gulf of Mexico, U.S. and Canadian sides of the Great Lakes). It also includes all U.S. charts for the entire coastline as well as everything available on NOAA charts. In addition to the basic charts, tidal stations, currents, depth contours, IALA symbols and included fishing charts, BlueChart g2 offers smooth transitioning between zoom levels and more seamless continuity across chart boundaries. Customize your screens with Shallow Water Shading, which allows you to contour shade for all depth contours shallower than what you determine is your safe depth. Fishing charts emphasize bathymetric contours with less visual clutter on the display. And there's also a choice of standard 2-D direct overhead or 3-D "over-the-bow" map views for easier chart reading and orientation.
Create Your Own HD Maps
Quickdraw Contours is a free, easy-to-use software feature already installed on your echoMAP CHIRP 94sv. It instantly creates your own personalized HD fishing maps on screen with 1-foot contours. Tailor the maps as needed; you own them. Keep the data for yourself, or share it with Garmin or your friends. No special surveying expertise is required. You just fish while Quickdraw Contours creates maps. There's no waiting around or sending your files away like other mapping software requires — your results appear instantly. Use with any Garmin Panoptix transducer, any HD-ID™ sonar, any CHIRP-enabled, Garmin DownVü transducer or NMEA 2000-compatible depth transducer. Have more than 1 sonar device installed onboard? Quickdraw Contours automatically selects the most capable sonar device to provide the very best results for you.
Heading and Position Refreshed 5 Times per Second
Fast, responsive 5 Hz GPS/GLONASS refreshes your position and heading 5 times each second to make your movement on the screen more fluid. Now it's quick and easy to drop up to 5,000 accurate waypoints and find your way back to your secret fishing hot spots.
Add Panoptix LiveVü Forward Sonar
With LiveVü Forward your boat can be moving or stationary. Wherever your trolling motor is pointed, you will see live images of what is happening under the water. Watch your lure as it sinks, and see its depth and movement as you retrieve it. See it move in relationship to structures in the water. See fish swimming, reacting to your bait; if they attack, you'll see and feel the hit. Once on the hook, watch the fight on your screen as it happens. With Panoptix LiveVü Forward, you can see it all come to life up to 100 feet away.
Take Your echoMAP with You
When you're off the water, it's easy to keep your echoMAP safe and secure. You don't have to mess with plugging and unplugging wires from the unit because the cords plug directly into the mount. This allows you to quickly install and remove your echoMAP from power and the mount.
Upgrade with the Best Garmin Maps on the Water
A single microSD™ card slot provides expandable memory for accessory map purchases such as LakeVü HD, LakeVü HD Ultra or BlueChart® g2 Vision®. LakeVü HD Ultra and BlueChart g2 Vision provide exclusive Garmin Auto Guidance, a technology that directs you to your hot spots. Based on your boat's specifications, Auto Guidance instantly creates a visual path you can follow to avoid shallow water and other charted obstructions.
Enhanced Auto Guidance
Just enter the location where you want to go and patented Garmin Auto Guidance technology instantly searches through relevant charts to create a safe, virtual pathway on the display that helps you avoid low bridges, shallow water and other charted obstructions en route.
With enhanced Version 2.0, you have access to more features and capabilities. You're able to adjust the calculated Auto Guidance pathway by inserting "via" points at interim stops or landmarks along your desired route. You can easily review hazard points along your calculated path. And you can even engage your compatible Garmin autopilot to follow the Auto Guidance route, automatically. Other 2.0 enhancements give you the ability to calculate arrival times at any point on your route (great for timing arrivals to correspond with bridge openings and other time-critical events). Better still, you can now save your plotted Auto Guidance paths for future navigation by backing them up on an SD™ card with your BlueChart g2 Vision or LakeVü HD Ultra cartography¹.
GPX Waypoints Transfer
If you have waypoints, tracks or frequently used routes stored on another manufacturer's GPS product - or on a Garmin handheld device - now it's easier than ever to transfer those items to your new Garmin chartplotter, via industry-standard GPX software formatting. GPX is an open standard format for GPS data exchange across platforms and applications. With this easy-to-use interface technology, Garmin has taken "no waypoint left behind" to a whole new level of trade-up convenience.
¹BlueChart g2 Vision or LakeVü HD Ultra SD card is required for this technology.

Multiple Depth Range Shading
Designate up to 10 different depth ranges each with its own color. Makes it easier to view target depths at a glance.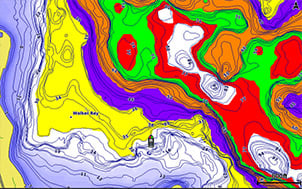 Commission Autopilot from Chartplotter
To make commissioning easier and more convenient, you can handle the entire autopilot commissioning process from your chartplotter screen.
FUSION-Link Entertainment System
Enjoy the ability to control all compatible FUSION-Link-enabled audio systems directly from your compatible chartplotter display.
Special Sailing Features
Supported SailAssist features include laylines, enhanced wind rose, heading and course-over-ground lines and true wind data fields. Gauge displays are designed to provide important, need-to-know information at a glance, including true and apparent wind angle, set and drift, true or apparent wind speed, horizontal graphs and a data bar with customizable data fields. To help you gain a wind-maximizing competitive edge, your chartplotter features a pre-race guidance page that shows your virtual starting line, along with data fields showing laylines, time to burn before the start and a race timer.
Physical & Performance

Physical dimensions
9.8"x5.5"x2" (25cmx13.9cmx5.1cm)
Display size, WxH
6.0"x3.6"; 7.0" diagonal

(15.2 x 9.1 cm; 17.8cm diagonal)

Display resolution, WxH
480 x 800 pixels
Display type
WVGA display
Weight
1.7 lbs. (0.77kg)
Water rating
IPX7
Antenna
Internal only
NMEA 0183 compatible
yes
Power consumption
7.1 W
Mounting options
Bail or flush
Garmin Marine Network™ ports
1 Panoptix™ port
Maps & Memory

Preloaded maps
BlueChart® g2 (coastal maps)
Accepts data cards
1 microSD™ card
Waypoints
5,000
Routes
100
Track log
50,000 points; 50 saved tracks
Chartplotter Features

Garmin Sonar compatible
yes
Supports AIS (tracks target ships position)
yes
Supports DSC (displays position data from DSC-capable VHF radio)
yes
Tide tables
yes
BlueChart® Mobile (planning) compatible
No
Sonar Features & Specifications

Dual-frequency (50/200 kHz) sonar capable
yes
Dual-beam (77/200 kHz) sonar capable
yes
Frequencies supported
CHIRP (low, mid, high)

Traditional: 50/77/20 kHz

DownVü: 260/455/800 kHz

SideVü: 260/455/800 kHz

Transmit power
500 W (RMS) / 4,000 W (peak to peak)
DownVü™
Yes (built-in)
SideVü™
Yes (built-in)
Maximum depth
2,300 ft @ 77 kHz, freshwater

1,100 ft @ 77 kHz, saltwater

(depth capacity is dependent on water bottom type and other water conditions)

Bottom lock (shows return from the bottom up)
yes
Water temperature log and graph
yes
Sonar recording
yes
Sonar history rewind
yes
Connections

NMEA 0183 input ports
1
NMEA 0183 output ports
1
Video input ports
None
Video output ports
None
Wireless connectivity
No
in the box
Transducer Version
echoMAP CHIRP 74sv with U.S. BlueChart® g2
Power/data cable
Tilt mount
Quick-release cradle
Protective cover
Flush mount kit
GT51M-TM transducer (12-pin)
Transom mount
Hardware
Documentation
Without Transducer Version
echoMAP CHIRP 74sv with U.S. BlueChart® g2
Power/data cable
Tilt mount
Quick-release cradle
Protective cover
Flush mount kit
Hardware
Documentation
| Manual Name | Revision | Revision Date | Part Number | Action |
| --- | --- | --- | --- | --- |
| ­Important Safety and Product Information | D | Dec 2014 | 190-00720-32 | Download |
| ­­Declaration of Conformity | A | Feb 2016 | 190-01951-99 | Download |
| Installation Instructions | A | Dec 2015 | 190-01951-02 | Download |
| Owner's Manual | B | Feb 2016 | 190-01951-00 | Download |