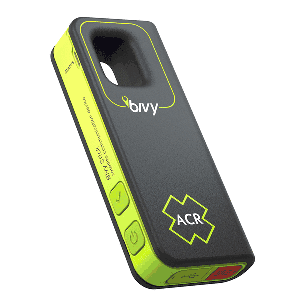 ACR Bivy Stick Two-Way Satellite Communicator 4601
Bivy Stick Two-Way Satellite Communicator
Turn your Apple or Android Smartphone into a Global Satellite Communicator. With the power of a downloadable App. and a view of the sky, you can be control of your communications anywhere in the world.
The Bivy Platform
Comprised of the Bivy Stick and Bivy App, the Bivy Platform pairs feature-rich hardware and software to create the perfect blend of safety and convenience. Ideal for adventures and off-grid activities of all shapes and sizes, utilize the Bivy Platform to plan your experience, stay on track for the duration of that experience and remain in contact with everyone that matters throughout, all while knowing that help is always available at the simple push of a button.
Bivy Stick's Role
Use the Bivy Stick to turn your cell phone into a gloabl satellite communication device. With global satellite coverage via the Iridium satellite network, anywhere you have a view of the sky, you can communicate through the Bivy Stick. While conveniently compact, theBivy Stick still offers a comprehensive feature set including two-way text messaging, SOS, location sharing, one-touch Check-in, and detailed weather reports sent straight to your cell phone via satellite. Additionally, offering a feature, not provided with many other satellite communicators, the Bivy Stick provides users with a dedicated phone number and email. This important feature allows unsolicited incoming messages, meaning that those that are most important to you can reach you at any time, without the need for you to initiate contact.
Bivy App's Role
The Bivy app has more than 50,000adventures ready to be explored. No matter what you like to do in the outdoors, you can find a place to do it with the Bivy app. With twenty different adventure types all at your fingertips, the Bivy App is a versatile tool that can facilitate all your adventure needs. The Bivy App also allows you to keep track of all your adventures. Track your pace, mileage, altitude, and more. Plus get access to detailed offline maps everywhere in the world. Always know where you are, even without cellular service.
As a leader in life-saving products for both professional and recreational use, ACR's Bivy Stick brings safety and peace of mind or affordable and reliable satellite communication to everyone.
Features:

WARNING: This product can expose you to chemicals including di(2-ethylhexyl)phthalate (dehp) which is known to the State of California to cause cancer, birth defects or other reproductive harm. For more information go to P65Warnings.ca.gov.