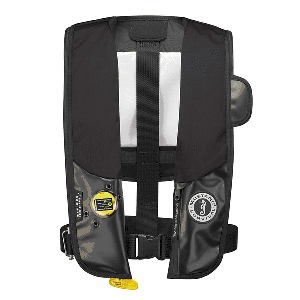 Mustang Manual HIT Inflatable Law Enforcement PFD - Black
HIT Inflatable PFD for Law Enforcement - Black - Manual
The manual inflator offers reliable inflation in a low-maintenance design that will only inflate when activated by the user. It also features the patented SecureZipô closure system to ensure the PFD will stay closed during even the most rigorous activity and still open effortlessly upon inflation.
The MD3181 LE includes a back flap that can be silkscreened with your department identification. This low-profile PFD is designed to be worn in conjunction with Personal Protective Equipment (PPE) and is lightweight and comfortable enough that you'll forget you're wearing a PFD.
*Upon inflation, it is essential to inspect and re-arm your PFD before next use.
Features:
Status indicator window: green means it's ready to go
Cylinder is contained inside bladder to protect against corrosion
Identify your department with custom silk screened backflap
SecureZipô closure
Lightweight and comfortable design
Durable 420-Denier nylon and heavy duty polyurethane coated nylon
Strobe light holder, safety whistle and SOLAS reflective tape on bladder
Backup oral inflation tube
D-ring for kill-switch attachment
Neoprene Comfort Collar
Certifications:
U.S.C.G. - Marine Buoyant Devices 160.076 - Type II Recreational
U.S.C.G. - Marine Buoyant Devices 160.076 - Type V Commercial
Technical Specifications:
Color - Black
Inflation - Manual
CO2 Cylinder Size - 33 gram
Size - Universal Adult
Chest Size - 30" to 52" (76 to 132 cm)
Weight Capacity - ≥ 80 lb (≥36 kg)