Furuno Navpilot 300/PG-M with 1.6L Octopus Autopilot Package for 12-23 cubic inches Ram
NavPilot 300 is not your ordinary Autopilot
The NavPilot 300 is a revolutionary autopilot. With Fantum Feedback, NavPilot outboard installations no longer require use of a physical rudder feedback unit. This results in a streamlined, simplified installation. Combined with Furuno's unique adaptive learning technology, NavPilot 300 provides unmatched outboard Autopilot performance. Fantum Feedback is designed for planing and semi-displacement outboard vessels from 24 to 50 feet, with one to four outboard engines, where it achieves precise course control from slow trolling to speeds of well over 60 knots.
The NavPilot 300/PG-M includes a 1.6L pumpset for boats with multiple-cylinder steering systems, as well as the PG700 Fluxgate Compass Heading Sensor with magnetic field distortion correction, providing highly accurate and stable heading information.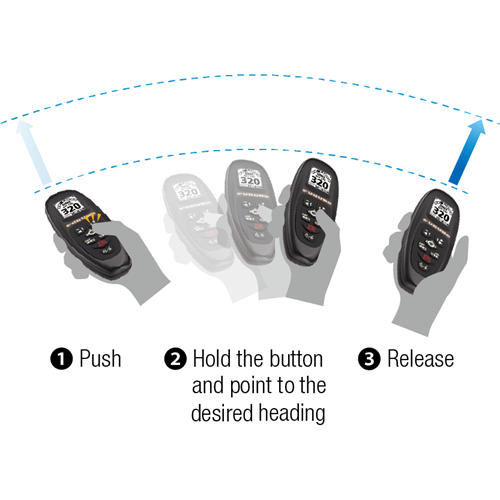 Gesture Control - just push, point and shoot!
The Gesture Controller is a revolutionary and unique way to steer your boat remotely. By using Bluetooth signals, it is possible to control the Autopilot from anywhere on the boat within 10 meters. Just push, hold the button, point to the desired heading and release to let the Autopilot redirect the boat!
Versatile Display Modes on a vivid 4.1" Color LCD Display
The SABIKI™ mode lets the autopilot control while you are drifting astern, so you can focus on fishing instead of steering. Maintaining heading astern while compensating for wind and tide, SABIKI™ mode is uniquely tailored for Sabiki fishing, jigging and bottom fishing.
Other display modes include Furuno's Highway mode, Auto and Advanced Auto modes, and Fish Hunter mode, where one of four pre-programmed maneuvers can be performed around a specified target at a user selected distance. These include Zig-Zag, Orbit, Figure 8, or a Spiral maneuver. The Fish Hunter feature can also be used for Man Overboard (MOB).
Powerful new tools enhance safety and comfort
The optional SAFE HELM and POWER ASSIST features provide a unique interface to the vessel's hydraulic hand steering system, providing unrivaled comfort and control of steering directly from any manual helm on the vessel. These two modes greatly reduce steering effort and enhance the safety of your autopilot. The POWER ASSIST mode incorporates the SAFE HELM concept and provides speed-based, power assisted steering, which greatly reduces manual helm effort in maneuvering situations. POWER ASSIST is a unique helm-activated assisted steering feature that can augment or replace separate electric and power-robbing, engine-driven power steering systems on many vessels. POWER ASSIST reduces steering system complexity and costs while increasing economy.
SAFE HELM and POWER ASSIST modes will require the optional FPS8 Power Steering Module and an appropriate HRP Pumpset.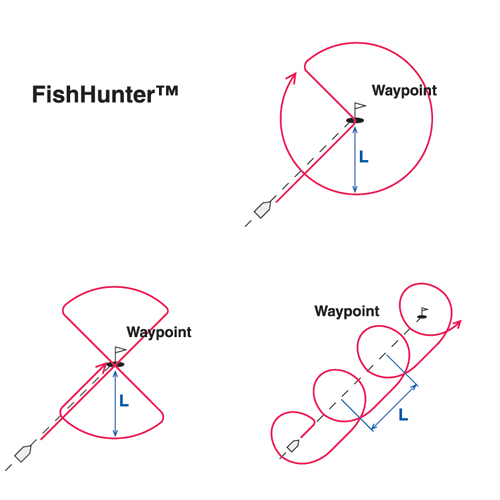 Integrate your helm with NavPilot's FishHunter mode
FishHunter mode is a unique feature of FURUNO's NavPilot series. Find a fish target with your FURUNO sonar/sounder or bird target with your FURUNO radar and feed it to the NavPilot The NavPilot will activate the FishHunter mode to perform square, zigzag, circle, orbit, spiral or figure-eight maneuvers around the specified target at a user selected distance. This feature can also be used for Man Overboard (MOB).
*RRU (Rudder Reference Unit) required to enable Fish Hunter mode on NavPiot 711C/OB models
Furuno Fantum Feedback
With Fantum Feedback, NAVpilot outboard/sterndrive installations no longer require use of a physical rudder feedback unit. NAVpilot software clears the path to a simplified installation, while also delivering enhanced steering control.

In the Box:
FAP-3011 - 4.1" Color LC
GC-001 - Gesture Controller
FAP3012 - Processor Unit
PG700 - Fluxgate Magnetic Sensor With Enhanced Stability By A Solid-State Rate Gyroscope, w/ 6M Cable
PUMPOCT16-12 - 1,600CC/MIN OCTOPUS PUMP, 12V, 1.6 Cubic Inches per second (For Ram sizes from 12-23 Cubic Inches in volume)
AIR-335-792 - NMEA2000 Micro Terminator, Female
AIR-335-791 - NMEA2000 Micro Terminator, Male
AIR-052-531 - NMEA2000 T-Connector, Female/Female/Male (x3)