Scanstrut LMB-A2 Self Leveling Radar Mount, Backstay (Aft), For SITEX/Simrad/Furuno Domes (Special Order)
Maximize your Radar's performance
2.6m (8ĺ6ö) high, mounts forward of the backstay, keeping your radar away from any interference, leaving a clear deck free from obstruction. Constructed from the best marine-grade aluminium, designed to fit the most up to date radars from Furuno.

Product Information.
Hydraulic damping
The main levelling unit features a fine-tuned damping system which reacts to major changes in heel angle of the boat. It is entirely maintenance-free and no power is required.

Bespoke mounting pole
2.6m (8ĺ6ö) aluminium mounting pole, supplied in 2 lengths with hidden joiner piece. Cables are routed down a cable channel for a neat install. Extension pieces are available.

High strength universal base for mounting pole
Eliminates loading on backstay. The base can be deck, transom or chainplate mounted.

Suitable for any yacht
Stainless radome cradle has a fine tune adjustment for backstay angle and the product can be installed on both adjustable and split backstays (see faq for further information).

Nylon backstay bushing supplied
Clamps around backstay allowing cable tension to be adjusted.

Mount your radar higher
Additional 0.6m and 1.3m lengths available to mount your radome higher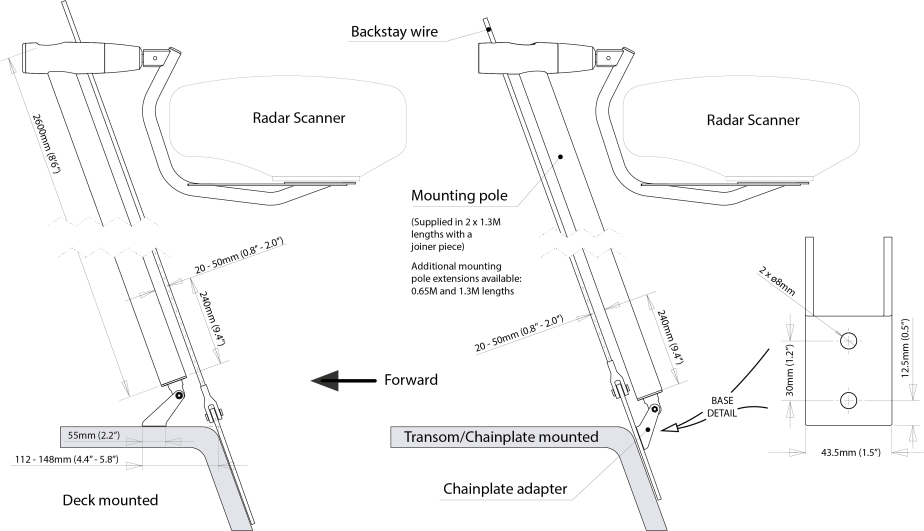 Devices Compatible with LMB-A2 Self Levelling Radar Mount - Backstay
Furuno
1621
1622
1623
1715
1724
1734
1815
1824
1832
1834
1835
DRS2D
DRS42DL
DRS42DL+
DRS4D / DRS4D-NXT
DRS4W
NavNet (18")
NavNet (24")
Interphase
Mini RE-1
RE-8
RE-9
JRC
1000, 1000mk2
1066
1500, 1500mk2
Koden
2kW 12"
4kW [RB715A]
Lowrance
LRA-1800 / RB714A / DX42
Navman
8000 Series [8084/8120] 18"
Northstar
M series/8000i (18")
Simrad
GB40 / NX40/45 / NSE8/12 / RB712A / DX42S
Sitex
MDS -1
MDS -8
MDS -9
MDS-12
NKE-1066
Techmarine
T-72.01
T-72.02
T-72.04