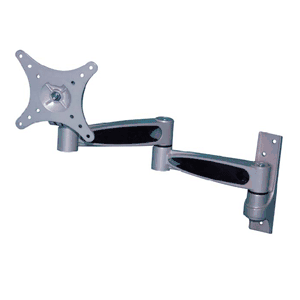 Majestic 2 Piece Swing Arm, Folds Flush To The Wall with Locking Pin
The ARM2502 comes with a locking pin designed to lock your TV against the wall during transit. This arm provides the perfect solution to most installations.

Excellent for wall mounting, simply lift the locking pin and the arm swings out to 410mm from the wall. With double linkages this arm can bend and turn to fit almost any application.

The Vesa bracket plate fits 75mm - 100mm - and 125mm mounting arrangements with lockable grub screws. So, you can have the TV fixed to the bracket or unlock the screws and remove it from the bracket and take the TV with you.

The ARM2502 is the perfect choice for multiple application installations.



Weight Capacity: 10 kg (22.05 lbs)

TV Size: 10" to 22"

Mounting: 75mm Vesa, 100mm Vesa, 125mm Vesa all included

Extension: 90mm to 410mm with locking pin

Dimensions: Against wall: 270mm (10.63")H x 195mm (7.68")W x 80mm (3.15")D
Extended: 270mm (10.63")H x 80mm (3.15")W x 410mm (16.14")D