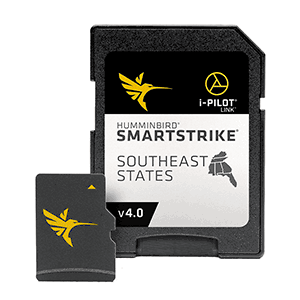 Humminbird SmartStrike Southeast States - Version 4
SmartStrike® Southeast States - Version 4
SmartStrike is your digital fishing guide, letting you predict where the fish will be next. Based on search parameters like season, time of day, temperature and targeted fish species, SmartStrike highlights areas of the lake map where fish are most likely to be biting - before you even wet a line. It's like having your own fishing guide with decades of experience in the boat with you.
Features:
Coverage: AL, FL, GA, KY, MS and TN
SmartStrike cards combine High Definition LakeMaster lake map data and extensive search algorithms to help you pattern and locate fish at any time of the year.
SmartStrike gives you access to Shallow Water Highlight, Depth Highlight and Water Level Offset, all exclusive features of Humminbird LakeMaster.
Find a fishing spot using SmartStrike, then lock onto a depth and Follow the Contour with your Minn Kota trolling motor using i-Pilot® Link™.
Once your parameters are set, the results immediately appear on the screen, which means less time searching and more time fishing.
Instantly locate fishing hotspots where your preferred species is likely to be active based on current conditions.
For an even more advanced search, you can highlight areas on the lake map that meet specific criteria for depth, slope and other parameters.
Humminbird SmartStrike map cards are compatible with all SOLIX Series models and all GPS-equipped HELIX G2/G2N Series models. They are also compatible with ONIX, ION Series, and select first generation HELIX models.
Compatible Models:
SOLIX
HELIX 12
HELIX 10
HELIX 9
HELIX 7
HELIX 5