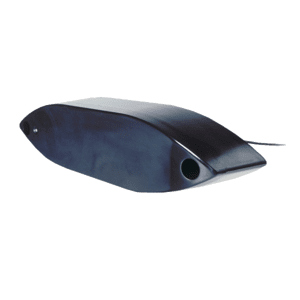 Raymarine R409LM-W UltraWide 2KW Through Hull, Low-Medium CHIRP Transducer
Today's top billfish-tournament captains are calling the R409LWM their "go to" transducer for seeking out targets and pinpointing them in deep water. This ultra-wide transducer features a 40° beamwidth for an amazing amount of fish-finding coverage under the boat. Combining the low-frequency range of 40 to 60 kHz with a medium-frequency range of 80 to 130 kHz, this tournament-series transducer reveals more fish in the water column than ever before.
Captains are combining this transducer with a PM275LHW or a B175HW for a combined package covering low to high frequencies with both wide and narrow-beams.


Depth and fast-response water-temperature sensor
2 kW
Low frequency: 40 to 60 kHz

40° beamwidth for ultra-wide coverage
Maximum depth of 1,219 m (4,000')

Medium frequency: 80 to 130 kHz

13° to 8° beamwidth
Maximum depth of 914 m (3,000')

70 kHz of total bandwidth from one transducer
Covers popular fishing frequencies of 50 and 200 kHz plus everything else in the bandwidth
Urethane transducer housing with fairing for optimal performance at higher speeds
Also available as a pocket/keel (PM411LWM ) mount
Exclusive Xducer ID® technology
Acoustic Window:
Epoxy/urethane
Common Use:
Fishing, Commercial Fishing
Deadrise Range:
Up to 25° with fairing
Frequency Band:
Low Wide-Medium
Housing Material:
Urethane
Hull Material:
Compatible w/ all hull materials
Low Frequency Beamwidth:
40°
Max Depth:
Low frequency- 1219 m (4000'), Medium frequency- 914 m (3000')
Max Vessel LOA:
9 m (30') and above
Medium Frequency:
80-130 kHz
Medium Frequency Beamwidth:
13°-8°
Mounting Style:
Thru-Hull
Single or Dual Frequency:
CHIRP-Ready Dual-Band
Transducer Functions:
Depth, Temperature
Weight:
15.1 kg (33.3 lb.)