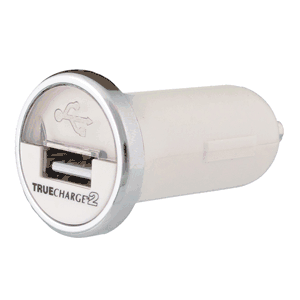 Xantrex TRUECHARGE2 USB Charger 812-0001-01




TRUECHARGE™2 USB Charger
Charge your iPod®, iPhone®, BlackBerry® and more
The TRUECHARGE™2 USB Charger is compact, powerful, and conveniently converts power from your vehicle or boat to run USB-powered devices.
Simply insert the USB Charger into your vehicle or boat DC socket, and then plug your device into the USB port, the LED light will illuminate and you're ready to begin charging. This USB Charger combines innovative technology in a small footprint that provides 5-volt DC power to charge iPod®, iPhone®, BlackBerry® smartphone, MP3 players, or any other mobile device.