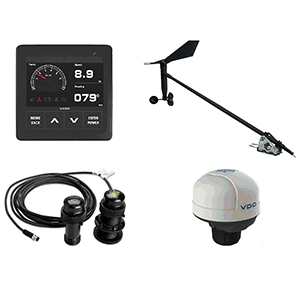 Veratron Navigation Kit Plus for Sailboats, A2C1352150003
Navigation Kit Plus for Sailboats
Complex boats need a smart solution. And we have it. VDO Marine OceanLink® display is the only product on the market able to interpret CAN, NMEA 2000® and analog signals without any additional external device.
Safety, performance, entertainment. VDO Marine Navigation Kit and Navigation Kit Plus is the solution! Our Navigation Kits will become essential crew members which ensure you top performance in the open sea, even in the most extreme situations.
All in one box All you need is in one box including wiring harness and terminators. All products are REACH and RoHS compliant and NMEA 2000® certified.
NAVSENSOR (INCLUDED ONLY IN THE KIT NAVIGATION PLUS)
The multifunctional AcquaLink™ NavSensor offers an inertial sensor with a GNSS receiver module to provide the accurate readings of speed of travel as well as pitch & roll. Compass readings can be displayed electronically thanks to the embedded Fluxgate compass, which also facilitate course corrections in electronic autopilots. The barometer and air temperature sensors are early indicators of forthcoming weather conditions.
Navigation Kit Plus includes:
1x OceanLink 4.3 TFT Display/Gateway - Black
1x NMEA 2000 Wind Sensor
1x Nav Sensor
1x Triducer Airmar Sensor (Speed/Depth/Water Temp)
1x 30m NMEA 2000 backbone (mast) cable
3x 6m NMEA 2000 drop cable
1x NMEA 2000 terminator (female)
1x NMEA 2000 terminator (inline)
3x NMEA 2000 T-splitter