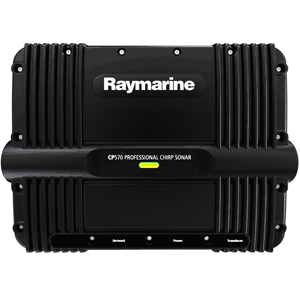 Raymarine CP570 Professional CHIRP Sonar Module 4KW E70258
Raymarine CP570 Professional Grade CHRIP Sonar Module
Engineered for serious anglers, the CP570 sonar module bring best-in-class target separation and high resolution CHIRP sonar imagery to Raymarine multifunction displays. Using a wide spectrum of frequencies and greater sensitivity the CP570's advanced CHIRP transceiver can see through dense schools of baitfish, identify thermoclines, and simultaneously target desired game fish.
Rated for offshore use and rough conditions, the CP570 intelligently filters out unwanted noise while producing high resolution fish targets and reliable bottom tracking.
For the professional angler the CP570's two fully independent sonar channels deliver faster target identification and up to 4kW of combined output power.
CP570 Professional CHIRP™ Sonar Module
High-Performance Sonar Module For Professional & Tournament Fishing

CHIRP Sonar Module
Engineered for serious anglers, the CP570 sonar module bring best-in-class target separation and high resolution CHIRP sonar imagery to Raymarine multifunction displays. Using a wide spectrum of frequencies and greater sensitivity the CP570's advanced CHIRP transceiver can see through dense schools of baitfish, identify thermoclines, and simultaneously target desired game fish.

Rated for offshore use and rough conditions, the CP570 intelligently filters out unwanted noise while producing high resolution fish targets and reliable bottom tracking.

For the professional angler the CP570's two fully independent sonar channels deliver faster target identification and up to 4kW of combined output power.

Serious Offshore Sonar
Superior target definition and enhanced sensitivity using Raymarine's exclusive wide spectrum CHIRP sonar technology.

Target fish, identify bait, and track the sea floor down to 10,000' (3,000M) with two adjustable CHIRP sonar channels.
Hunt for fish in different parts of the water column with the CP570's two fully independent 2kW sonar channels.

Stunning Detail & Clarity
With 10 times the resolution of ordinary sonars the CP570 delivers sharper, more defined fish targets and automatically filter out unwanted noise so you never miss the action below.
TruZoom™ magnification mode reveals extra target detail without any loss of resolution.
The CP570's ultra-fast ping rate processing delivers accurate bottom tracking in extreme offshore conditions.

Easy To Customise
Choose optional low, medium, and high CHIRP frequency transducers in standard or wide-beam to match your fishing preferences.

The CP570 automatically recognizes connected transducers and adjust sonar parameters for optimized performance
View and control each CHIRP channel independently and create your own combination of full or split screen sonar windows on Raymarine's LightHouse II powered multifunction displays.

Features

TruZoom™TruZoom™ provides magnified views of fish targets, bottom structure, and baitfish without loss of resolution as seen by traditional sonar

Automatic transducer identification with Airmar Xducer ID

Airmar Wide Beam transducer compatible

Waterproofing Standard:IPX6 waterproof rugged aluminum enclosure

Compatibility:aSeries | cSeries | eSeries | gS Series

Nominal Supply Voltage:12/24 V DC

Power Consumption: 30.6W (Maximum)

Connections:Power connection | Network connection (RayNet connector) 10/100 Mb/s | Transducer connection


Sonar Performance

Sonar Type: Wide Spectrum CHIRP

Power:Max 4kW output using 2 independent CHIRP channels

Frequency & Channels:Dual independent CHIRP channels from 25 to 250kHz

Depth Range:10,000' (3,000M)
Specifications

Sonar Type
Wide Spectrum CHIRP
Power
Max 4kW output using 2 independent CHIRP channels
Frequency & Channels
Dual independent CHIRP channels from 25 to 250kHz
Depth Range
10,000ft (3,000m)
Features
TruZoom™
TruZoom™ provides magnified views of fish targets, bottom structure, and baitfish without loss of resolution as seen by traditional sonar
Waterproofing standard
IPX6 waterproof rugged aluminum enclosure
Compatibility
aSeries, cSeries, eSeries, gS Series
Connections
Power connection, Network connection (RayNet connector) 10/100 Mb/s, Transducer connection
Input Voltage
12/24 V DC
Input Draw
30.6W (Maximum)
Dimensions
13.8" W x 9.8" H x 4.3" D