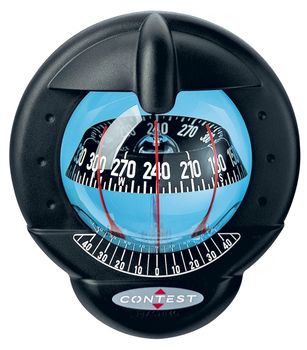 Plastimo Contest 101 Compass Black / Black Card, Tilted Bulkhead, 64422
By inventing double reading, Plastimo allowed the navigator to follow his course from the cockpit and the cabin. The Contest 101 goes even further: its exclusive mounting on any type of bulkhead, and its lines allow it to adapt technically and always remain in harmony with the design of current boats.
5 year warranty
The rose of each compass is manually balanced to ensure perfect horizontality. This is an extremely delicate operation, where know-how and attention to detail are guarantees of quality.
Options and accessories
Replacement cover: 25332
Mast mounting kit: 39201
Compensation box: 17673
Bezel: Black: 26891, White: 26892, Blue: 26893
The inclined partition model is designed for an inclination of between 10 and 25°.
The rose retains all its effectiveness and maximum pitching travel without risk of blocking.
Double reading: cockpit side and cabin side.
Pink: double graduation: horizontal and vertical, graduated every 5°, Reminder of headings every 30°.
Type of mounting: delivered as standard in bulkhead mounting version (vertical or inclined from 10 to 25°).
Can be mounted on a mast using the optional mast kit.
Alidades: 3 alidades, at 45°.
Gitometer: heel reminder every 10°.
Lighting: LED 12-24 V
Delivered with protective cover, drilling template.
0.9
19
17
17
5491
No
121mm
optional
Black
black
150mm
100mm
LED 12-24V
40mm
ISO 25862
from 9 m
sailing ship
12-24V
Partition inclined 10-25°
conical
ABC Zone: Worldwide