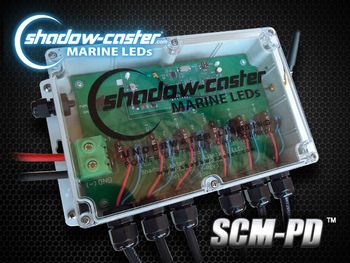 Shadow Caster SCM-Pd Power Distribution Box
SCM-PD Power Distribution Box
The Shadow Caster SCM-PD Power Distribution Box is an accessory recommended when installing 3 or more lights. This box can be used to distribute power and individually fuse multiple Shadow Caster Underwater Lights. The SCM-PD Power Distribution Box provides a convienent mounting accessory for connecting and controlling multiple Shadow Caster Underwater LED Lights. It has ports for up to 6 lights, and each one has its own fuse and own connector.
Size: 7.87" x 4.72" x 2.95"
Housing is durable, impact resistant, UV stabilized polycarbonate
Water tight housing is wash down friendly
Compatible with SCM-WC-PD wireless controller
Accepts up to 10 awg wire input
Seperate screw down terminals for 6 Shadow Caster Underwater Lights
Seperate ATC/ATO style fuses for each channel (included)
1-Year Warranty
Made in the USA
The following documents are in Adobe Acrobat Reader format.