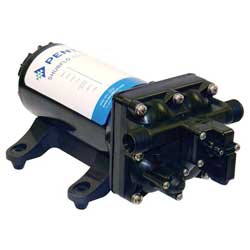 SHURFLO Problaster II Deluxe 4.0 GPM Water Pump 4248-153-E09
Perfect for tough washdown applications, such as rinsing anchor chains and clearing decks of fish scales and debris, these workhorse pumps feature a sealed, self-priming design that can run dry without damage and that won't overheat with extended use.
Switches are sealed against water damage as are the electro-coated motors with O-ring seals and fully sealed wire entries.
Pumps include Easy-Connect Swivel Strainer, Blaster spray nozzle, plus the following port adapters: one 3/4" GHT (garden hose thread) fitting and two 3/4" barb fittings for hose. Pumps are ignition and thermally protected.
Pump Type: Diaphragm
Pressure Switch: 60psi
Self-Prime: 6'
Material: Polypropylene pump head, EPDM Valves, Santoprene diaphragm
Port Sizes/Type: 1/2"-14NPSM
Dimensions: 10"L x 5"W x 4 3/4"H
Warranty: Two years