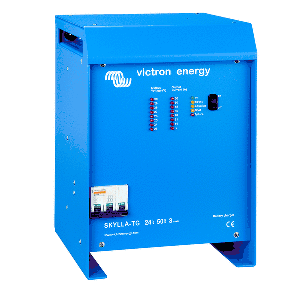 Victron Skylla - 24/100 TG Charger - 230V
Skylla - 24/100 TG Charger - 230V
One full rated output and one (1) 4 Amp output. Charge voltage can be precisely adjusted to suit any battery system.
The input for the charger is 230V at 50/60HZ. Charge voltage can be measured directly on the battery terminals in order to compensate for voltage loss due to cable resistance.
An external sensor allows to measure battery temperature and compensate charge voltage accordingly.
Features:
Perfect chargers for any type of battery - Charge voltage can be precisely adjusted to suit any sealed or unsealed battery system. In particular, sealed maintenance-free batteries must be charged correctly in order to ensure long service life. Overvoltage will result in excessive gassing and venting of a sealed battery. The battery will dry out and fail.
Suitable for AC and DC supply (AC-DC and DC-DC operation)
Every TG Charger has a microprocessor, which accurately controls the charging in three steps
Use of TG Chargers as power supply - As a result of the perfectly stabilized output voltage, a TG Charger can be used as a power supply if batteries or large buffer capacitors are not available.
Manufactured with a battery temperature sensor. When connected, charge voltage will automatically decrease with increasing battery temperature.
In order to compensate for voltage loss due to cable resistance, TG Chargers are provided with a voltage sensor so that the battery always receives the correct charge voltage
Technical Specifications:
Input Voltage - 230V AC
Input Voltage Range - 185 to 264V AC
Input Voltage Range - 180 to 400V DC
Battery Capacity - 500 to 1000 Ah
Frequency - 45 to 65 Hz
Battery Connection - M8 studs
230V AC Connection - Screw clamp (AWG 6)
Dimensions (H x W x D) - 14.4" x 9.9" 10.1" (36.5 x 25 x 25.7 cm)
Weight - 22 Lbs (10 kg)
In the Box:
Charger
Mounting brackets
Temperature sensor with 4.9' (1.5 M) wire
Instruction manual
*Sold as an Individual