Seastar Xtreme NFB Mechanical Steering System, SSX176XX




FEATURES
• Smoothest and lowest steering effort mechanical helm offered in the market place yet still offers easy installation.
• Complete steering system including new helm, high efficiency XTREME™ steering cable design and new style bezel.
• Quick connect feature on both steering cable and spent travel tube for easy quick installation.
• Installs in same mounting pattern and bracket location as current SeaStar Solutionsฎ steering systems.
• Smallest footprint possible to accommodate small/tight dash helm stations.
• Made, designed and assembled in the USA.

Includes:

XTREME™ NFB helm, bezel, and hardware kit (SHX7606) with QC steering cable (SSCX64XX).



COMPONENTS

This complete new steering system includes new helm, high efficiency XTREME™ cable
and new-style bezel. It is also available with Sport or Sport Plus tilt mechanism.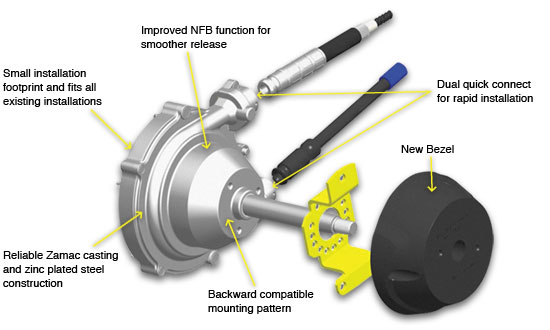 New Helm
The patent pending helm has a complete new gear train designed to provide smooth feel,
minimal backlash and low effort at the wheel. It also offers the smoothest NFB clutch release
and has a smaller footprint than the current 4.2 helm. All castings are designed to reduce
weight while offering superior strength.
New Bezel
New style, patent pending, bezel keeping with the design of the SH91900 tilt and hydraulic
helm pump designs.
SSCX Xtreme Cable
Features
• Based on the current industry leading XTREME™ technology
• Splined ridges on the inner liner allow close contact with core
• With minimum contact the core glides freely
• Tight fit for minimal lost motion
• Reduced friction for extended cycle life
• Robust construction support highest steering loads in the mechanical range
A brand new XTREME™ steering cable was designed specifically for this system.
This cable offers lower backlash and is more efficient than a standard steering cable.
It provides the lowest ease of effort, a close "fit" of the core to liner for lowest lost motion.
The concept provides the "tight" fit of core to liner yet allows area for lubrication.
The design of the helm allows higher loads to be placed into the cable requiring this new
design cable. There is a quick connect feature on both the steering cable and spent travel
tube for easy, quick installation.
Patents Pending on Helm, Cable and Bezel.
……………………………………………………………………………………………………………………………….
EASY INSTALLATION
There is a quick connect feature on both the cable and spent travel tube side. You will
notice the normal steering cable installation side marked on the casting for easier identification.
No tools are required to snap the steering cable or spent travel tube in place which means
quicker installation for the boat builder.
No bleeding of hydraulic system or electrical wiring is required. This new system fits the
standard SeaStar Solutionsฎ dash cut out with standard Safe-T and 4.2 bracket. The custom helm
is also available with the SH91800/SH91900 tilt mechanism.
…………………………………………………………………………………………………………………………….
APPLICATION GUIDE
CONFIGURATION

HELM

BEZEL/TILT/MECHANISM

STEERING CABLE

NOTES

PART NO.

QTY

PART NO.

QTY

PART NO.

QTY

Standard Helm NFB
SHX7606
1
SBX76061
1
SSCX64XX
1
Add suffix B to part numbers for
bulk items.
Add suffix P to part numbers for
packaged items.
Tilt Helm NFB
SHX97606
1
SH91800
1
SSCX64XX
1
Standard Helm Non – NFB
For OEM Applications Only
SHX7626
1
SBX76261
1
SSCX64XX
1
Tilt Helm Non – NFB
For OEM Applications Only
SHX97626
1
SH91800
1
SSCX64XX
1
…………………………………………………………………………………………………………………………….
ORDER GUIDE
Order by Component or Kit
COMPONENT

PART NO.

DESCRIPTION

OPTIONS

SHX7606
XTREME™ NFB Helm, Bezel and Hardware Kit
SHX97606
XTREME™ Tilt NFB Helm
SHX7626
XTREME™ Non-NFB Helm, Bezel and Hardware Kit
For OEM applications only
SHX97626
XTREME™ Tilt Non-NFB Helm
For OEM applications only
SSCX64XX
XTREME™ QC Steering Cable
SBX76061
XTREME™ Bezel and Hardware Kit NFB
SBX76261
XTREME™ Bezel and Hardware Kit Non-NFB
SSX176XX
XTREME™ NFB Steering Kit
SSX177XX
XTREME™ Tilt NFB Steering Kit

STANDARD SYSTEM NFB – KIT PART NUMBER SSX176

SHX7606
XTREME™ NFB Helm, Bezel and Hardware Kit
SSCX64XX
XTREME™ QC Steering Cable

TILT SYSTEM NFB – Kit part number SSX177

SHX97606
XTREME™ Tilt NFB Helm
SH91800
Sport Tilt Mechanism
SSCX64XX
XTREME™ QC Steering Cable