Garmin GMR 2524 xHD2 4' Open Array Radar & Pedestal, 25kW
GMR™ 2524 xHD2 Open Array Radar and Pedestal
4-foot Open Array Radar with 25 kW of Power
4-foot 25 kW GMR 2524 xHD2 open-array radar with pedestal
The only 4-foot 25 kW radar that fully integrates with Garmin chartplotters
Provides radar data overlay onto charts (autopilot or heading sensor required)
The only 4-foot 25 kW radar available with Auto Bird Gain, which helps locate flocks of birds and helps signal the location of big game fish
Pulse Expansion maximizes energy on target, increasing target size
This is the only 4-foot 25 kW open-array radar that can fully integrate with Garmin chartplotters. It will provide radar data overlay onto your charts when used with autopilot or heading sensor. The GMR 2524 xHD2 has the power to deliver excellent target separation and amazing image clarity. It also features our Auto Bird Gain setting, which helps locate flocks of birds at the water's surface and helps signal the location of game fish. Pulse Expansion setting allows you to maximize energy on targets and increase target size. Dynamic Auto Gain and Sea Filter automatically adjust to your surroundings for optimal performance in all conditions. Dual radar capability allows more than 1 radar running at the same time. Dual range capability shows close and long range at the same time. Range: 96 nautical miles. Easy to install and easy to use — that's the power of simple.
High-power xHD2 Radar with Narrow 1.8 Degree Beam
Our most powerful 4-foot high-definition radar with 25 kW of power, delivers excellent range, up to 96 nautical miles, even in fog or rain. Its narrow 1.8 degree horizontal beamwidth means it can pick out weaker targets further off in the distance than wider beamwidths. The result is this radar paints a clear, concise image of the shoreline, other vessels, and impending weather on your Garmin chartplotter. You get consistent target positions, excellent target separation and reliable operation. Its 8-bit true color imagery also helps you discriminate large targets from small ones and enhances target separation. Rotation speeds of 24 and 48 rpm with a max range scale of 96 nautical miles.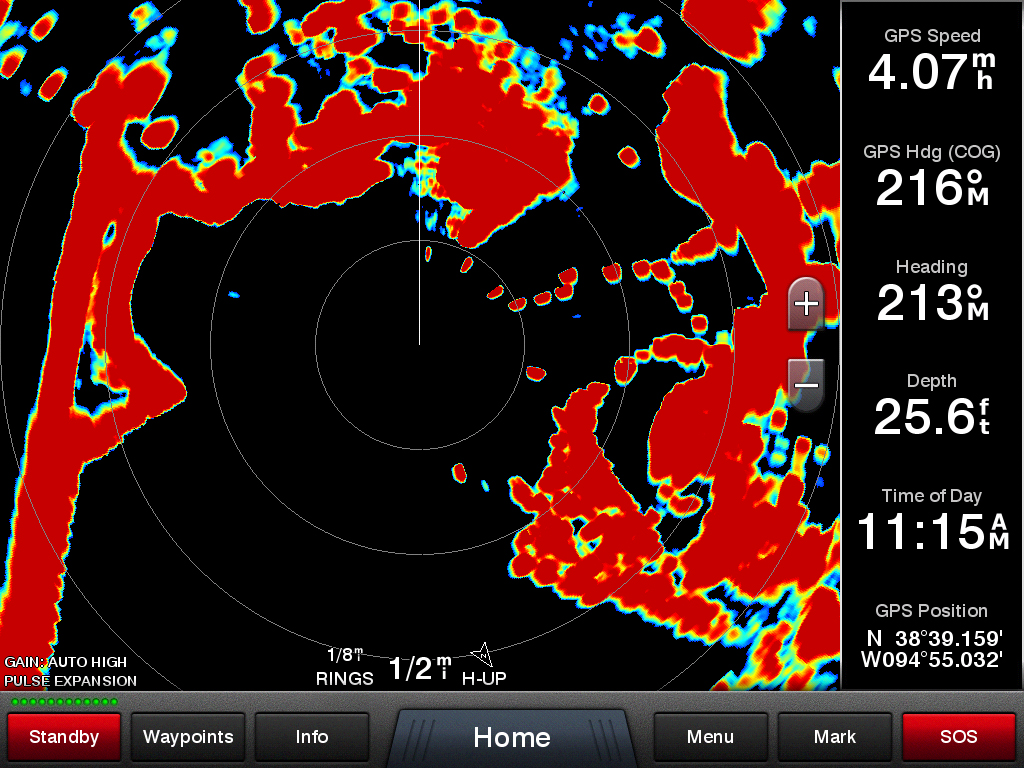 Pulse Expansion
Provides the ability to increase the duration of the transmit pulse, which helps maximize the energy on targets. This provides larger target size on the chartplotter.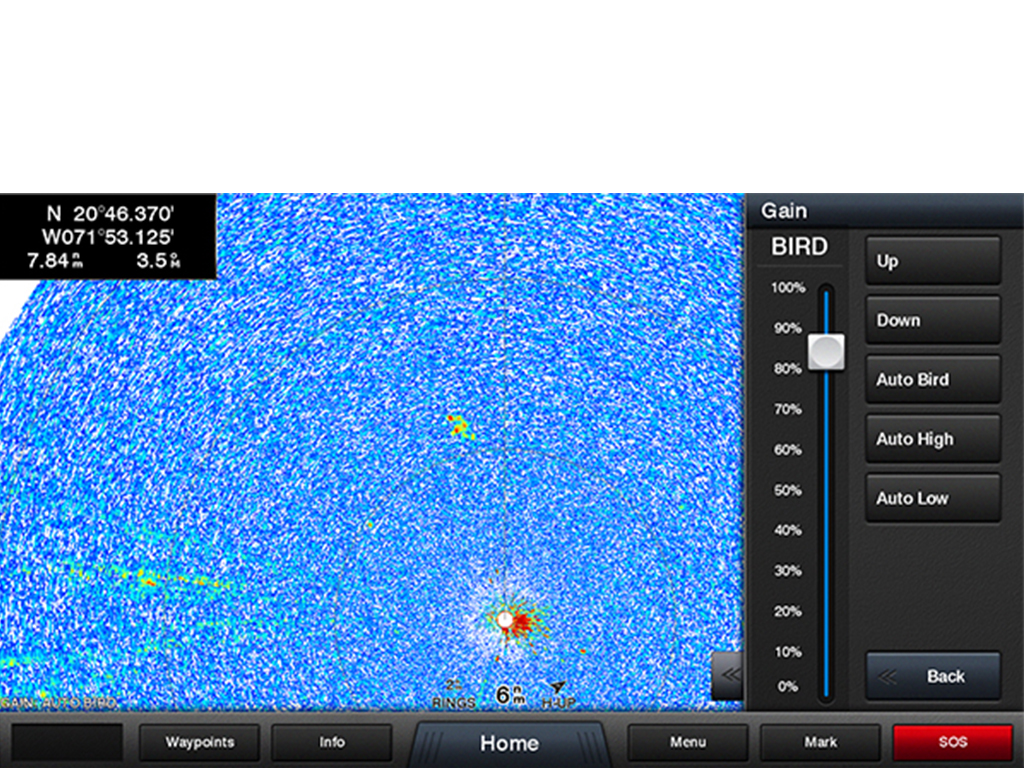 Auto Bird Gain
Fishermen know, when you find birds at the water's surface, you'll also find fish. To further improve your fishing experience, use Auto Bird Gain, which helps to locate birds at the water's surface where baitfish are also likely to be found.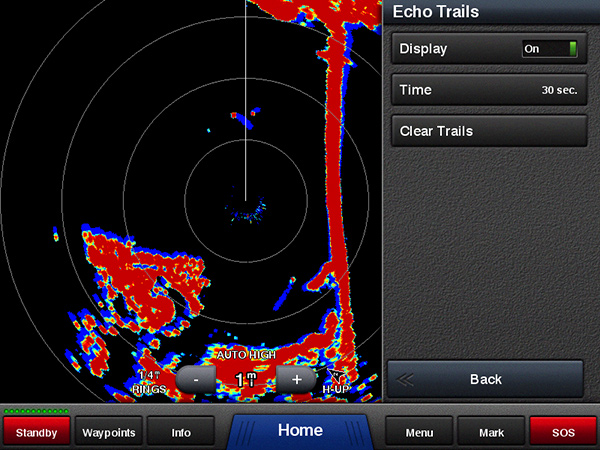 Echo Trails
A historical "trail" is left on the screen to help you quickly and easily identify moving targets and potential collision threats.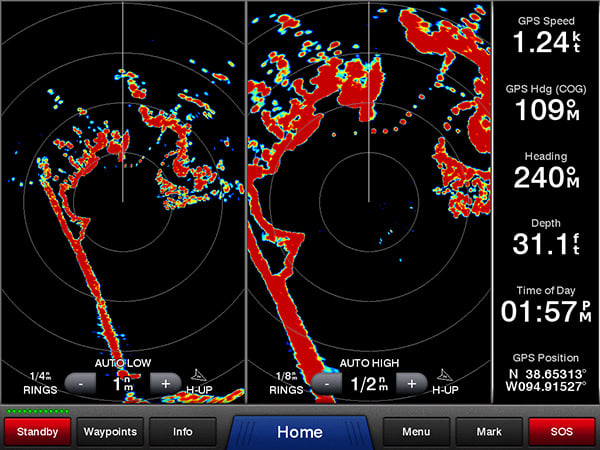 Dual Range
Single radar antenna is capable of providing split screen images on your chartplotter for both close and long range.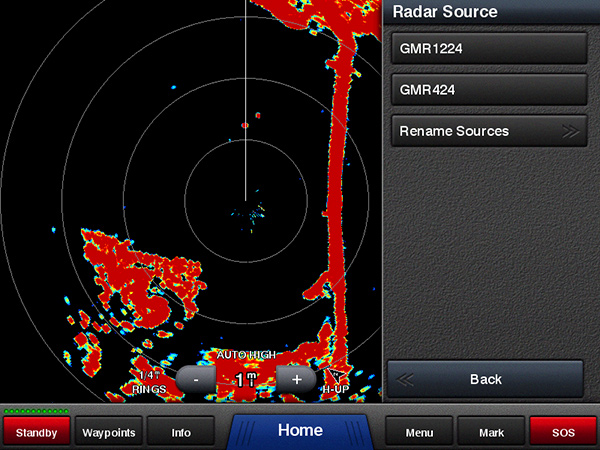 Dual Radar Support
Provides redundancy and the ability for each display unit on the boat to select data from 1 of 2 different radar sources.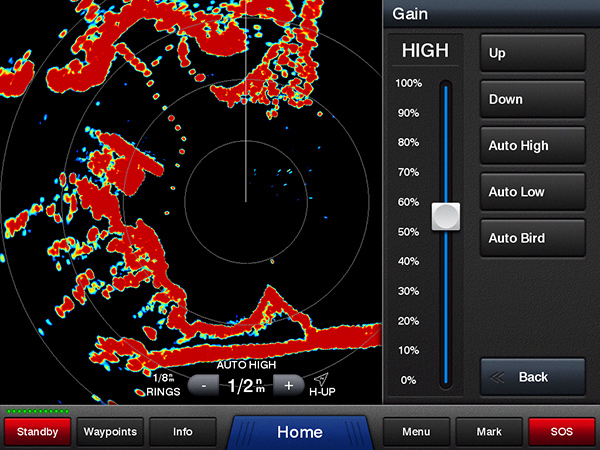 Dynamic Auto Gain
Dynamic Auto Gain automatically adjusts gain levels to optimum settings for harbors, near shore and offshore in open waters.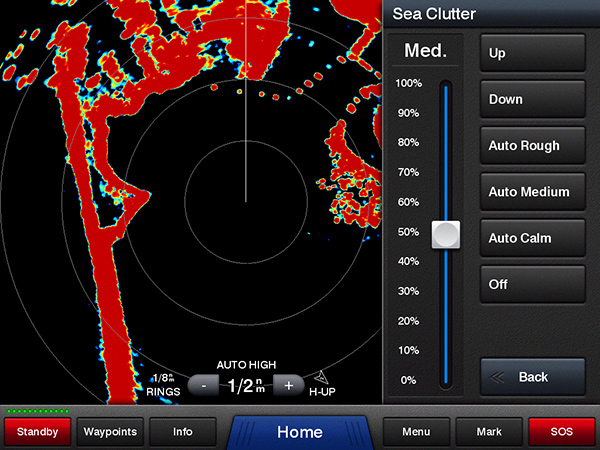 Dynamic Sea Filter
Dynamic Sea Filter automatically adjusts gain to calm, medium and rough sea conditions.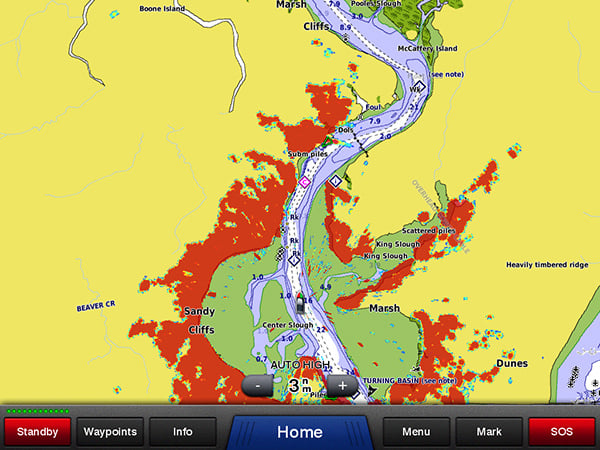 Radar Overlay
Overlays the radar image on the chartplotter's map page.
MARPA Target Tracking
Mini-automatic radar plotting aid (MARPA) tracks up to 10 selected targets, helping you keep track of other vessels and avoid collisions.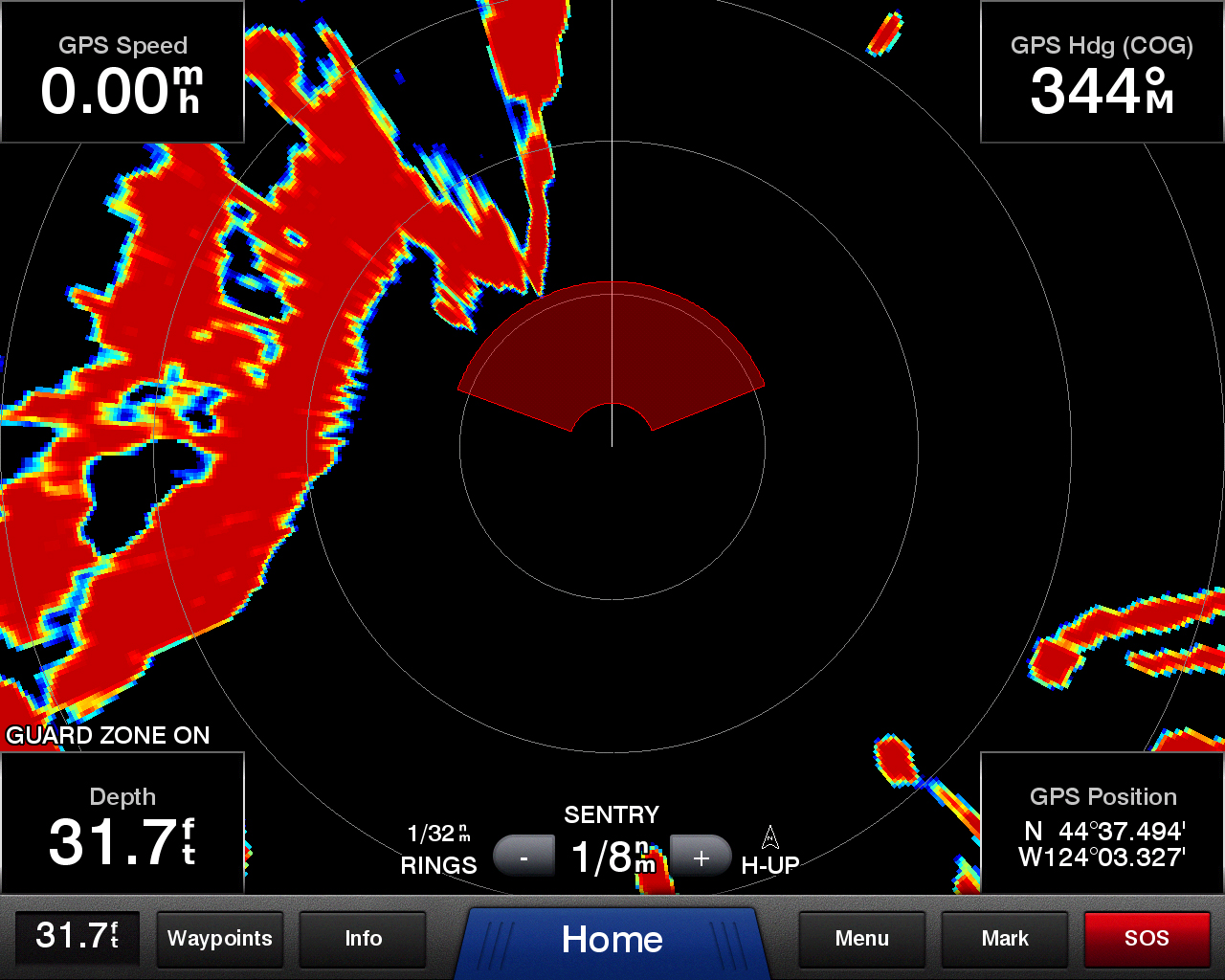 Guard Zone
Set the safety zone and receive an alarm when an object enters the zone.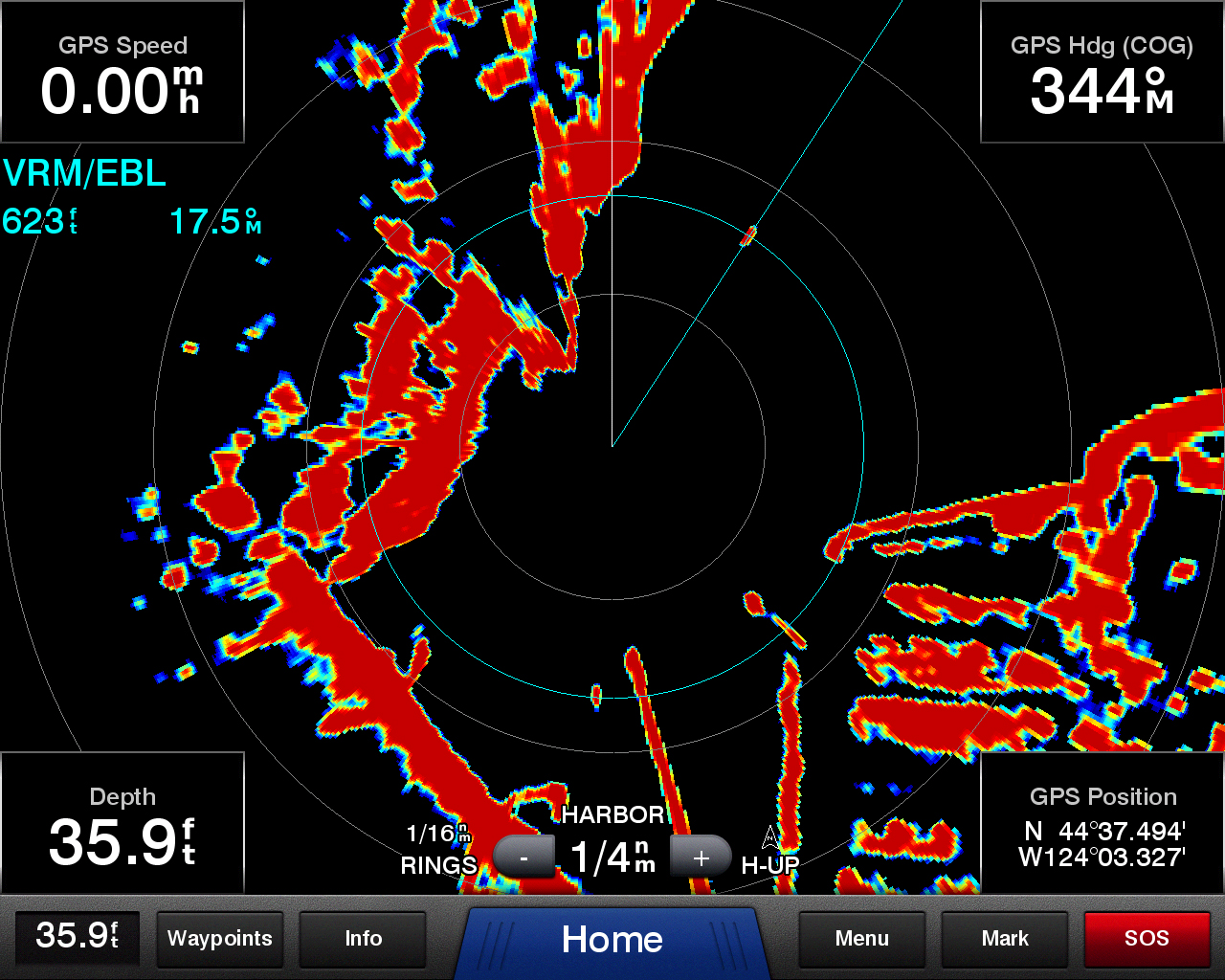 VRM and EBL
Variable range markers (VRM) and electronic bearing lines (EBL) allow rapid measurements of distance and bearing to vessels and land.
The Power of Simple…Radar
This radar is designed to be easy to install and use. There are no complex user settings to fuss around with, just install it and start using. You can rely on the GMR xHD2 to provide reliable, optimum performance in all conditions.
GPSMAP
7x1
8x0/10x0
4000/5000
6000/7000
7400/7600
8000/8500
Radar Overlay
•
•
•
•
•
•
Dual Range
•
•
•
•
MARPA
•
•
•
•
True Color
•
•
•
•
•
Auto Bird Gain
•
•
•
•
Echo Trails
•
•
•
•
Pulse Expansion

NEW

•
•
Dual Radar Support
•
•
Programmable antenna parking
•
•
Physical & Performance

Physical dimensions
4' array: 52.25" x 5" x 6.75" (132.7 x 12.7 x 17.1 cm)

Pedestal: 20.5" x 12.75" x 12.5" (52 x 32.4 x 31.8 cm)

Weight
array: 12.2 lb (5.5 kg)

pedestal: 47.1 lb (21.4 kg)

Water rating
IPX6
Antenna length
48" (121.92 cm)
Power consumption
100 W
Rotation speed (RPM)
24 and 48 rpm
Transmit power
25 kW
Power input
10-32 V
Beam width
1.8° horizontal, 23° vertical
Maximum range
96 nm
Minimum range
20 meters
Radar type
Open-Array
Radar Features

High definition (outstanding target separation with less screen clutter)
MARPA target tracking (collision avoidance)
Yes (Requires Heading Sensor, Sold Separately)
Guard zone alarm
Yes
Color
8 bit
Radar overlay support
Yes
Dual range support
Yes
Timed Transmit
Yes
No Transmit Zone
Yes
Auto Gain
Dynamic
Sea Filter
Dynamic
Additional

Additional

Auto Bird Gain: Yes
Dual Radar Support: Yes
Echo Trails: Yes
Programmable Antenna Parking Position: Yes
Max Wind Speed: 80 kt

Normal Mode

Range
Pulse Width
Pulse Repetition Frequency (PRF)
0.125-0.75 nm
100 ns
3840 Hz
1-1.5 nm
150 ns
2560 Hz
2 nm
250 ns
1280 Hz
3-12 nm
370 ns
1280 Hz
16-96 nm
750 ns
640 Hz

Pulse Expansion Mode

Range
Pulse Width
PRF
0.125-0.75 nm
200 ns
1280 Hz
1-1.5 nm
300 ns
1280 Hz
2 nm
500 ns
640 Hz
3-96 nm
750 ns
640 Hz